Parents, Guardians, and Students: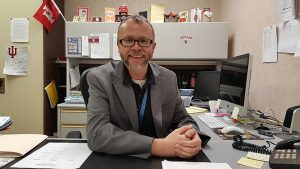 Welcome to Lewis Cass High School, where students come FIRST! I would like to personally introduce myself, my name is Mr.Bates and I am the Principal at Lewis Cass High School. I would like to welcome every student, guardian, parent, and the community that we represent. I have been apart of Lewis Cass Schools for eleven years and I know the highest quality of education that exists here. My ultimate goal is supporting the growth of both students and teachers. I feel that whenever you put students first, success ultimately follows. Our staff is committed to making this school year an incredible experience for your kids. Lewis Cass is an extraordinary school with great teachers and students; my goal is to continue that tradition while building towards the future.
Our staff here at Lewis Cass High School works as a team to put your kids first; however, the only way that this team can be complete is with your help and participation. We look forward to working in partnership with parents and community members toward this goal.
We believe in open communication between home and school and want to hear what's on your mind. Please work with us to create and sustain a healthy and productive learning environment for your kids. We enforce with our kids what it means to be KINGS. Being KINGS requires Kindness, Integrity, being Non Judgemental,, Grit, and Self-control. These five traits are essential in life. Remember Always Be a King!
Your partner in education,
Mr. Bates
Principal
Batesb@lewiscass.net
Lewis Cass High School
6422 East State Road 218
Walton, Indiana 46994
www.lewiscass.net